Naan Adimai Illai
Naan Adimai Illai made in தமிழ் movie produced in the year 1986 and released on 1986-03-01. Naan Adimai Illai directed by Dwarakish. The main cast by Delhi Ganesh, Rajinikanth, Sridevi Kapoor, V. K. Ramasamy, Thengai Srinivasan, Girish Karnad.
Naan Adimai Illai Posters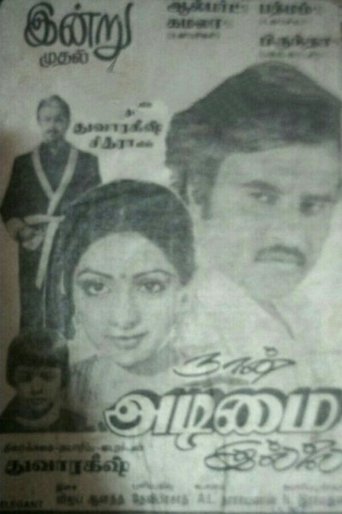 Naan Adimai Illai Budget and ratings
Country:
Original Title: Naan Adimai Illai
TMDB Id: 66267
TMDB Rating: 6.3
Budget: $0
Revenue: $0
Year: 1986
Release Date: 1986-03-01
Runtime: 0
Language: தமிழ்
Country:
Delhi Ganesh, Rajinikanth, Sridevi Kapoor.
Directors:
Story and tagline of Naan Adimai Illai
Tag Line:
Plot: Vijay and Priya fall in love and get married against her father's wishes. However, when they get separated after a fight, Priya's father plots to keep them away from each other.
Geners: Drama
Cast of Naan Adimai Illai
Similar Movies and T.V Series