Naan Mahaan Alla
Naan Mahaan Alla made in தமிழ் movie produced in the year 1984 and released on 1984-01-14. Naan Mahaan Alla directed by S. P. Muthuraman. The main cast by Sathyaraj, Rajinikanth, Radha, M. N. Nambiar, V. K. Ramasamy, Cho Ramaswamy.
Naan Mahaan Alla Posters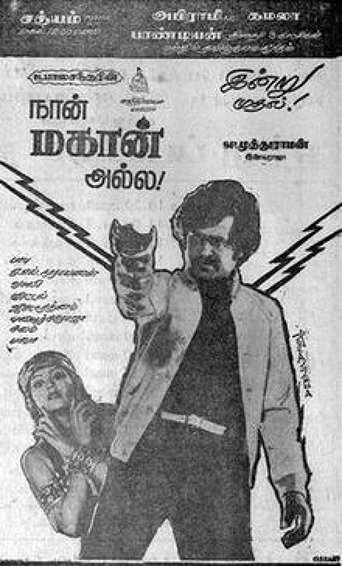 Naan Mahaan Alla Budget and ratings
Country:
Original Title: நான் மகான் அல்ல
TMDB Id: 248352
TMDB Rating: 5.0
Budget: $0
Revenue: $0
Year: 1984
Release Date: 1984-01-14
Runtime: 133
Language: தமிழ்
Country:
Sathyaraj, Rajinikanth, Radha.
Directors:
Story and tagline of Naan Mahaan Alla
Tag Line:
Plot: Viswanath (Rajnikanth), a famous lawyer, stays with his widowed mother (Vijayakumari) and physically handicapped sister (Uma). He sends Jegan, a rich magnate's son (Sathyaraj) and Lokaiya, two criminals to jail on the charge of rape and murder of an innocent girl. Jagan's father, GMK (M N Nambiar) uses his influence and starts creating trouble in Viswanath's life. GMK succeeds in getting Viswanath imprisoned on a trumped up charge. His heartbroken mother dies. Once out of jail, Viswanath sets out to punish the culprits when he temporarily loses his eyesight.
Geners:
Cast of Naan Mahaan Alla
Similar Movies and T.V Series