Naan Kadavul
Naan Kadavul made in தமிழ் movie produced in the year 2009 and released on 2009-02-06. Naan Kadavul directed by Bala. The main cast by Singampuli, Arya, Pooja Umashankar, Rajendran, Azhagan Thamizhmani, Aacharya Ravi.
Naan Kadavul Posters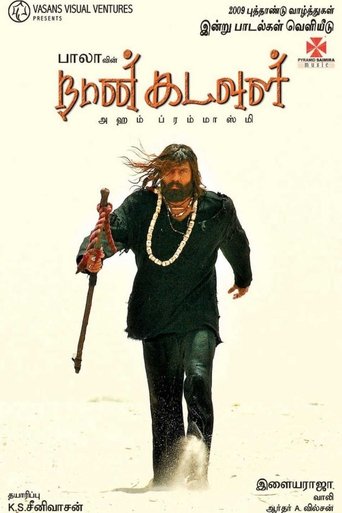 Naan Kadavul Budget and ratings
Country: IN
Original Title: நான் கடவுள்
TMDB Id: 69499
TMDB Rating: 7.2
Budget: $0
Revenue: $7,500,000
Year: 2009
Release Date: 2009-02-06
Runtime: 150
Language: தமிழ்
Country: IN
Singampuli, Arya, Pooja Umashankar.
Directors:
Story and tagline of Naan Kadavul
Tag Line: I am God
Plot: This surreal Tamil entry tells the story of Rudran, who is abandoned as a child in India and grows up to be a mystic who indulges in strange rituals and believes that he has power over life, death and rebirth.
Geners: Music, Drama, Action, Mystery
Cast of Naan Kadavul
Similar Movies and T.V Series