Kadhal Kasakuthaiya
Kadhal Kasakuthaiya made in தமிழ் movie produced in the year 2017 and released on 2017-09-08. Kadhal Kasakuthaiya directed by Dwarakh Raja. The main cast by Venba, Dhruva, Charle, Kalpana Ranjani, Linga, Kalpana.
Kadhal Kasakuthaiya Posters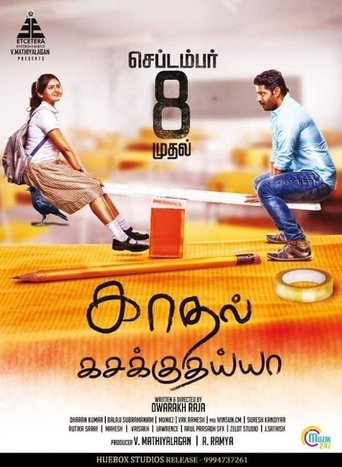 Kadhal Kasakuthaiya Budget and ratings
Country: IN
Original Title: காதல் கசக்குதையா
TMDB Id: 475934
TMDB Rating: 5.8
Budget: $0
Revenue: $0
Year: 2017
Release Date: 2017-09-08
Runtime:
Language: தமிழ்
Country: IN
Venba, Dhruva, Charle.
Directors:
Story and tagline of Kadhal Kasakuthaiya
Tag Line: Kadhal Kasakuthaiya
Plot: Diya, a twelfth standard school girl, due to peer pressure and her surroundings, is in quest of her love. She finds a twenty-five-year-old Arjun, who is a software engineer by profession, as her perfect match and tries to impress him. How Diya wins her love overcoming all the social stigma forms the main part of the story.
Geners: Comedy, Romance, Drama
Similar Movies and T.V Series